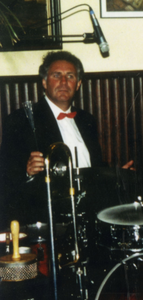 Persoon
Functie:
Muzikant; Vrijwilliger
Ook bekend als:
-
Samenvatting:
Veelzijdig drummer die vanaf 1964 in bands als The Destroyers, Zoo, Tortilla, Electric Tear en Parnassus heeft gespeeld, tevens vrijwilliger van Poparchief Groningen.
Biografie
Algemeen
Gerard

Groothuis

drumt van 1964 tot 1969 in The Destroyers en daarna een jaartje in Zoo. In 1970 vertrekt hij naar de Bergense groep Tortilla rond de broers Jan Piet en Emile den Tex en gaat in 1972 met deze mannen mee naar Electric Tear. Deze band wordt door Rik Zaal ook wel VPRO's huisband genoemd. In 1973 verlaat hij Electric Tear om Jan Groenink in Parnassus te gaan vervangen. In 2002 duikt hij weer op in de als Mr. Pleasant wedergeboren Destroyers. Ook drumt hij met The Ro-d-Ys tijdens de presentatie van een boek over deze legendarische band in 2008.

Gerard

Groothuis

is sinds 2007 eveneens redacteur bij Poparchief Groningen.